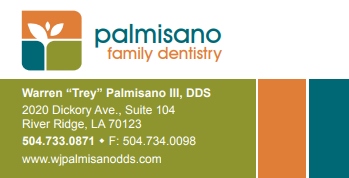 Our doors are always open to welcome new patients who are ready to receive the best in dental care. We are skilled at treating patients from all dental backgrounds and make every effort to ensure your appointment is as comfortable as possible. We provide quality care to get you onto the path of improved dental health.
---
2020 Dickory Ave., Suite 104 • River Ridge, LA 70123
t. 504.733.0871 • f. 504.734.0098 • palmisanodental@gmail.com
© 2008 Warren J. Palmisano III, DDS
© Images contained in this website are protected by copyright and may not be downloaded, republished, retransmitted, reproduced or otherwise used as a stand-alone file.